Taylor Francesco Stanton (6'3", 230 lbs.) was born January 15th, 1988 and is a professional baseball pitcher signed for the 2014 season by the

Fargo-Moorhead RedHawks

of the

American Association of Independent Professional Baseball

("AA").

2006 Deer Valley Wolverines
Stanton prepped at

Deer Valley High School

in Antioch CA; a 4,000 student school where he was a multi-sport athlete earning four varsity letters in baseball, two in football and three in soccer. Taylor garnered first-team all-league baseball honors three of his 4 years, and was first-team All-region

Contra Costa Times

All-Star. He was also a football and soccer all-league selection a combined five times while playing both QB and kicker in football. In baseball as a junior, Stanton compiled a 1.29 ERA and averaged 9.37 strikeouts per outing, hitting .330 with one home run and 26 RBIs. As a senior he finished 9-2 with three saves, striking out 70 batters with a 1.33 ERA. He also hit .370 with seven doubles in his final season.
Stanton attended St. Mary's College of CA in 2007. He made his collegiate debut on opening day as a true freshman and recorded a save in his first appearance. For the season he made 16 appearances and 3 starts, held opposing batters to a .244 mark and led the team with 5 saves which was the third most all-time in SMC annals. Due to financial considerations during the Great Recession, in 2008 Taylor had to make the decision to leave SMC and attend Diablo Valley Junior College. After his season he
was drafted in the 26th round of the 2008 Major League Baseball Draft and subsequently signed by Seattle Mariners scout Stacey Pettis into one of the deepest pitching farm systems in Major League Baseball.
Stanton
began his professional baseball career in 2008 with the Rookie-Level

Peoria Mariners

of the

Arizona League

. He went 1-1 with a 2.65 ERA in 11 games pitching 17 innings, striking out 20 opposing batters. He started two games that season.
In 2009 Stanton played for the Short-Season
Everett AquaSox
of the
Northwest League
where he went 5-3 with a team-leading 3.50 ERA in 15 games, all starts. In 87 innings, he had 81 strikeouts against 25 walks issued and was subsequently named Everett's Pitcher of the Year by the team coaches.


2010 Iowa LumberKings
Entering the 2010 season Stanton packed his bags and traveled to Clinton, Iowa where he played for the Class A
Clinton LumberKings
of the
Midwest League
. He tied for the league lead in wins going 12-7 and tied for 7th in the league pitching 138 innings. Assembling a 4.30 ERA, he struck out 111 batters while allowing just 35 walks.
Beating long odds for a 26th round selection in the Draft, the Mariners saw potential and promoted Stanton for the 2011 season to the thin air of the Class A+

High Desert Mavericks

in the

California League

. Known as the best hitters park in all of US Minor League Baseball, Clear Channel Stadium inflates pitchers ERA's and home runs by a 23% factor according to Baseball America.
Taylor nevertheless bested the park, starting in 11 games striking out 45 while walking only 13 batters and was third among team starters with a 5.65 ERA. That performance earned him a call-up to the
Double AA
Jackson Generals

of the

Southern League

where he posted a solid 4.35 ERA getting into 22 games mostly in middle-inning short relief, striking out 31 and walking 16. For the season Stanton compiled a combined 5-9 record, earned 2 saves, and delivered a 5.08 ERA over 117 innings pitched, striking out 76 hitters while walking 29.

Routine Putout - High Desert Mavs in 2012
During the 2012 season Stanton again played for both the Class A+
High Desert Mavericks
of the
California League
and the
Double AA
Jackson Generals

of the

Southern League (baseball)

. With the High Desert Mavericks, he was 6-5 with a 5.17 ERA in 24 games, 15 of the games as a starter. Stanton pitched 108.0 innings and allowed 67 runs (62 earned) on 132 hits. He struck out 79 batters and walked 21. At Jackson, Stanton was 3-2 with a 5.53 ERA in eight games, four of which were starts accounting for three of his wins. On August 6th, 2012 he was named the

California League

Pitcher of the Week.
Always strong at fielding his position, Taylor ended the 2012 season with a combined 1.000 fielding percentage for his 3rd year as a pro, accomplishing the stat over 32 games in 28 chances, starting one double play and getting 8 putouts while catching 4 batters napping on the bases.

Talking with a fan in Fargo
In 2013 Taylor Stanton started camp within the Mariners organization and competed for a starting spot on the

Jackson Generals

. With an overload of right-handers on the Mariners AA team, he was released on the final day of camp in what was described in the press as a difficult decision among the 6 right-handers competing for two slots. After weighing his options as a free-agent, Taylor was pleased to sign with the
Fargo-Moorhead RedHawks
of the
American Association of Independent Professional Baseball
("AA").

2013 AA Pitcher of the Year
Taylor Stanton had a breakout year in 2013 finishing the regular season near the top of the league in multiple categories including wins where he played in 19 games, all starts, ending with a 9-4 record and a league-leading 2.43 ERA; more than half a run per game better than the next player. He tied for the league lead with 3 complete games, which included a 9 inning shutout July 3rd versus Lincoln, and a 9 inning 10 strikeout performance in a win versus Sioux City on July 19th. He was 4th in the league in BAA, holding opponents to a .240 batting average. He was 3rd in the League with a WHIP of 1.143 among pitchers with 10 or more starts, and 5th in SO/BB at 3.72.
Demonstrating his complete command of all the pitches in his arsenal (fastball, sinker, slider, curve, change), he led his team with 108 strikeouts while giving up only 29 walks in 126 innings pitched. Taylor was named as the starter for the first game of the 2013 AA playoffs and went 6 2/3 innings giving up no earned runs in getting a no decision in his only playoff action which represented the only Redhawks win of the 2013 playoffs.
Game #1 Starter 2013 Playoffs
On August 30th 2013, Taylor Stanton was named the 2013 American Association Pitcher of the Year as voted on by the league's managers and media members. The next day he was also named to the League's All-Star team. On October 16th, he was named to the All Independent League Team as determined by Baseball America in consultation with Indy League managers. He was also named to the list of Top Unsigned Players in the Independent Leagues by Baseball America.
Heading into the 2014 season, Taylor was working without an agent but had contact with four affiliated clubs who had taken notice of his success in the American Association. While the interest was very promising, each team needed to look at their club's health coming out of camp first. There were no firm invites as camps broke for the regular seasons and Taylor signed again with Fargo.
Newman Outdoor Field, Fargo ND
While not getting picked up by an affiliated team off the successful 2013 season was of course a disappointment, Taylor used that as motivation and decided to play winter ball and signed with Leones de Ponce of the Puerto Rico Professional Baseball League. Unfortunately he developed some tendentious in Ponce and that
lingered through the 2014 season.
Being a competitor, Taylor nonetheless took the ball every 5th day for the RedHawks and gave the team the chance to win most nights even though his pitch selection was limited especially early in the 2014 season.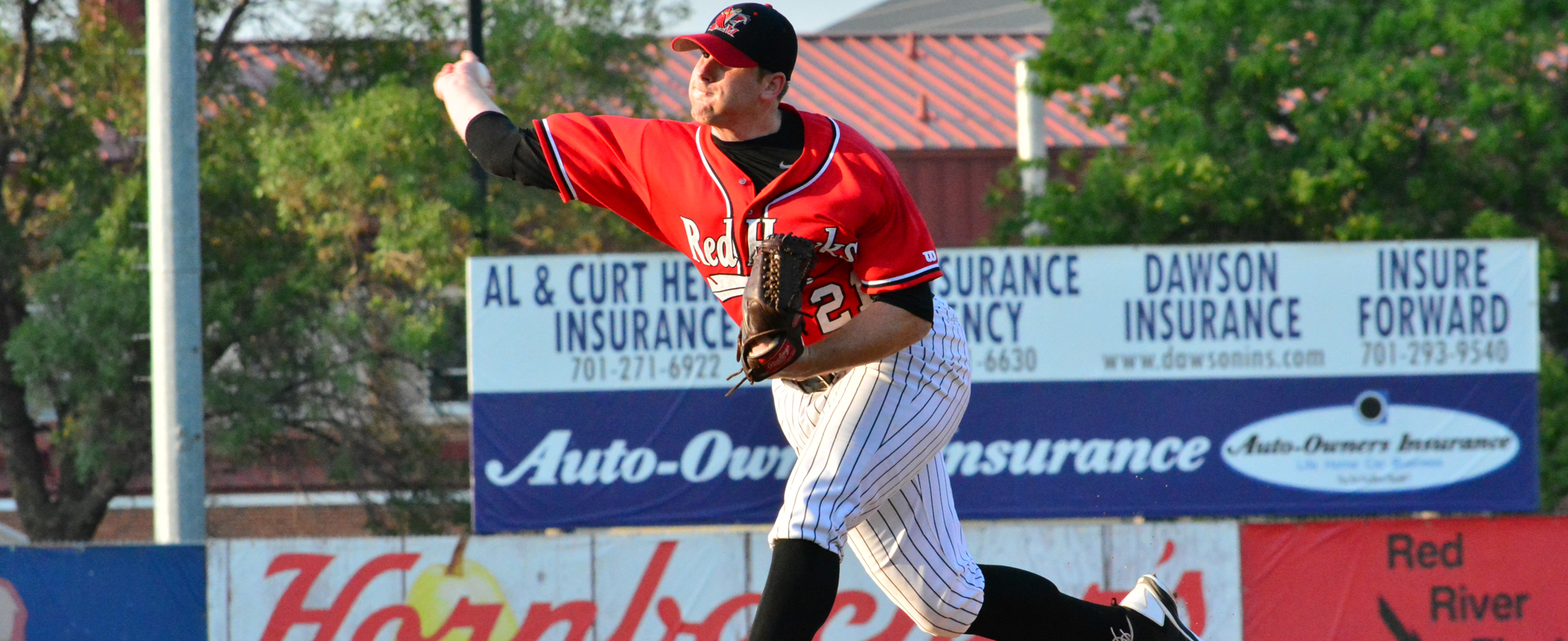 August 7th Win vs Gary RailCats
Taylor Stanton ended the year leading or second on the RedHawks team in most statistical categories including batters faced, innings pitched, and strikeouts. With the team also having an off year at the plate and near the bottom of the league in batting, wins were a little harder to earn.
Taylor has several offers to play ball both in the US and overseas in 2015 and is weighing his options. Given the situation with his arm this past year, he isn't expecting to get an affiliated opportunity until he is healthy and demonstrates he is back to form. His goal at this point is to rest up, regain complete health, then come into the 2015 season ready to prove his 2013 year wasn't a fluke. Hopefully with that plan he'll catch the eye of a scout and get a shot at affiliated ball again.