Prep Career
Stanton prepped at

Deer Valley High School

in Antioch CA; a 4,000 student school where he was a multi-sport athlete earning four varsity letters in baseball, two in football and three in soccer.
2006 Deer Valley Wolverines
Taylor garnered first-team all-league baseball honors three of his 4 years, and was first-team All-region

Contra Costa Times

All-Star. He was also a football and soccer all-league selection a combined five times while playing both QB and kicker in football.
In baseball as a junior, Stanton compiled a 1.29 ERA and averaged 9.37 strikeouts per outing, hitting .330 with one home run and 26 RBIs. As a senior he finished 9-2 with three saves, striking out 70 batters with a 1.33 ERA. He also hit .370 with seven doubles in his final season.
College Career
Stanton attended St. Mary's College of CA in 2007. He made his collegiate debut on opening day as a true freshman and recorded a save in his first appearance. For the season he made 16 appearances and 3 starts, held opposing batters to a .244 mark and led the team with 5 saves which was the third most all-time in SMC annals.
Due to financial issues which were an outgrowth of the Great Recession, in 2008 Taylor had to make the difficult decision to leave Saint Mary's College and attend Diablo Valley Junior College. After his successful season, he
was drafted in the 26th round of the 2008 Major League Baseball Draft and subsequently signed by Seattle Mariners scout Stacey Pettis into one of the deepest pitching farm systems in Major League Baseball.
Affiliated Baseball - Seattle Mariners
Stanton
began his professional baseball career in 2008 with the Rookie-Level

Peoria Mariners

of the

Arizona League

. He went 1-1 with a 2.65 ERA in 11 games pitching 17 innings, striking out 20 opposing batters. He started two games that season.
In 2009 Stanton played for the Short-Season
Everett AquaSox
of the
Northwest League
where he went 5-3 with a team-leading 3.50 ERA in 15 games, all starts. In 87 innings, he had 81 strikeouts against 25 walks issued and was subsequently named Everett's Pitcher of the Year by the team coaches.


2010 Iowa LumberKings
Entering the 2010 season Stanton packed his bags and traveled to Clinton, Iowa where he played for the Class A
Clinton LumberKings
of the
Midwest League
. He tied for the league lead in wins going 12-7 and tied for 7th in the league pitching 138 innings. Assembling a 4.30 ERA, he struck out 111 batters while allowing just 35 walks.
Beating long odds for a 26th round selection in the Draft, the Mariners saw potential and promoted Stanton for the 2011 season to the thin air of the Class A+

High Desert Mavericks

in the

California League

.
Known as the best hitters park in all of US Minor League Baseball, Clear Channel Stadium inflates pitchers ERA's and home runs by a 23% factor according to Baseball America.
Taylor nevertheless bested the park, starting in 11 games striking out 45 while walking only 13 batters and was third among team starters with a 5.65 ERA.
That performance earned him a call-up to the
Double AA
Jackson Generals

of the

Southern League

where he posted a solid 4.35 ERA getting into 22 games mostly in middle-inning short relief, striking out 31 and walking 16. For the season Stanton compiled a combined 5-9 record, earned 2 saves, and delivered a 5.08 ERA over 117 innings pitched, striking out 76 hitters while walking 29.

Routine Putout - High Desert Mavs in 2012
During the 2012 season Stanton again played for both the Class A+
High Desert Mavericks
of the
California League
and the
Double AA
Jackson Generals

of the

Southern League (baseball)

. With the High Desert Mavericks, he was 6-5 with a 5.17 ERA in 24 games, 15 of the games as a starter. Stanton pitched 108.0 innings and allowed 67 runs (62 earned) on 132 hits. He struck out 79 batters and walked 21.
At Jackson, Stanton was 3-2 with a 5.53 ERA in eight games, four of which were starts accounting for three of his wins. On August 6th, 2012 he was named the

California League

Pitcher of the Week.
Always strong at fielding his position, Taylor ended the 2012 season with a combined 1.000 fielding percentage for his 3rd year as a pro, accomplishing the stat over 32 games in 28 chances, starting one double play and getting 8 putouts while catching 4 batters napping on the bases.

Talking with a fan in Fargo
In 2013 Taylor Stanton started camp within the Mariners organization and competed for a starting spot on the

Jackson Generals

. With an overload of right-handers on the Mariners AA team, he was released on the final day of camp in what was described in the press as a "difficult decision among the 6 right-handers competing for two slots."
Independent Baseball
After weighing his options as a free-agent, Taylor was excited to be given the opportunity to continue chasing his dream, and signed with the
Fargo-Moorhead RedHawks
of the
American Association of Independent Professional Baseball
("AA").

2013 Season
2013 AA Pitcher of the Year
Taylor Stanton had a breakout year in 2013 finishing the regular season near the top of the league in multiple categories including wins where he played in 19 games, all starts, ending with a 9-4 record and a league-leading 2.43 ERA; more than half a run per game better than the next player.
Taylor tied for the league lead with 3 complete games, which included a 9 inning shutout July 3rd versus Lincoln, and a 9 inning 10 strikeout performance in a win versus Sioux City on July 19th. He was 4th in the league in BAA, holding opponents to a .240 batting average. He was 3rd in the League with a WHIP of 1.143 among pitchers with 10 or more starts, and 5th in SO/BB at 3.72.
Game #1 Starter 2013 Playoffs
Demonstrating his complete command of all the pitches in his arsenal (fastball, sinker, slider, curve, change), he led his team with 108 strikeouts while giving up only 29 walks in 126 innings pitched.
Taylor was named as the starter for the first game of the 2013 AA playoffs and went 6 2/3 innings giving up no earned runs in getting a no decision in his only playoff action which represented the only Redhawks win of the 2013 playoffs.
Making Magic Happen
On August 30th 2013, Taylor Stanton was named the 2013 American Association Pitcher of the Year as voted on by the league's managers and media members. The next day he was also named to the League's All-Star team. On October 16th, he was named to the All Independent League Team as determined by Baseball America in consultation with Indy League managers. He was also named to the list of Top Unsigned Players in the Independent Leagues by Baseball America.
Ponce Leones
After the 2013 regular season Taylor was working without an agent but had contact with four affiliated clubs who had taken notice of his success in the American Association. Trying to improve his
chances of getting back to an affiliated club, Taylor decided to give winter ball a try and signed with Leones de Ponce of the Puerto Rico Professional Baseball League.
Unfortunately the decision while well intended, didn't turn out well. His normal routine in gradually building up endurance for live games was rushed with the quick preseason in Ponce, leading to tendinitis that limited his playing time in in Puerto Rico.
2014 Season
All the stars have to align to get back to affiliated ball and with the tendinitis issue cropping up for the first time in his life, t
here were no firm invites as camps broke for the regular season so Taylor signed again with Fargo, but the shoulder soreness from winter ball lingered through the entire 2014 campaign.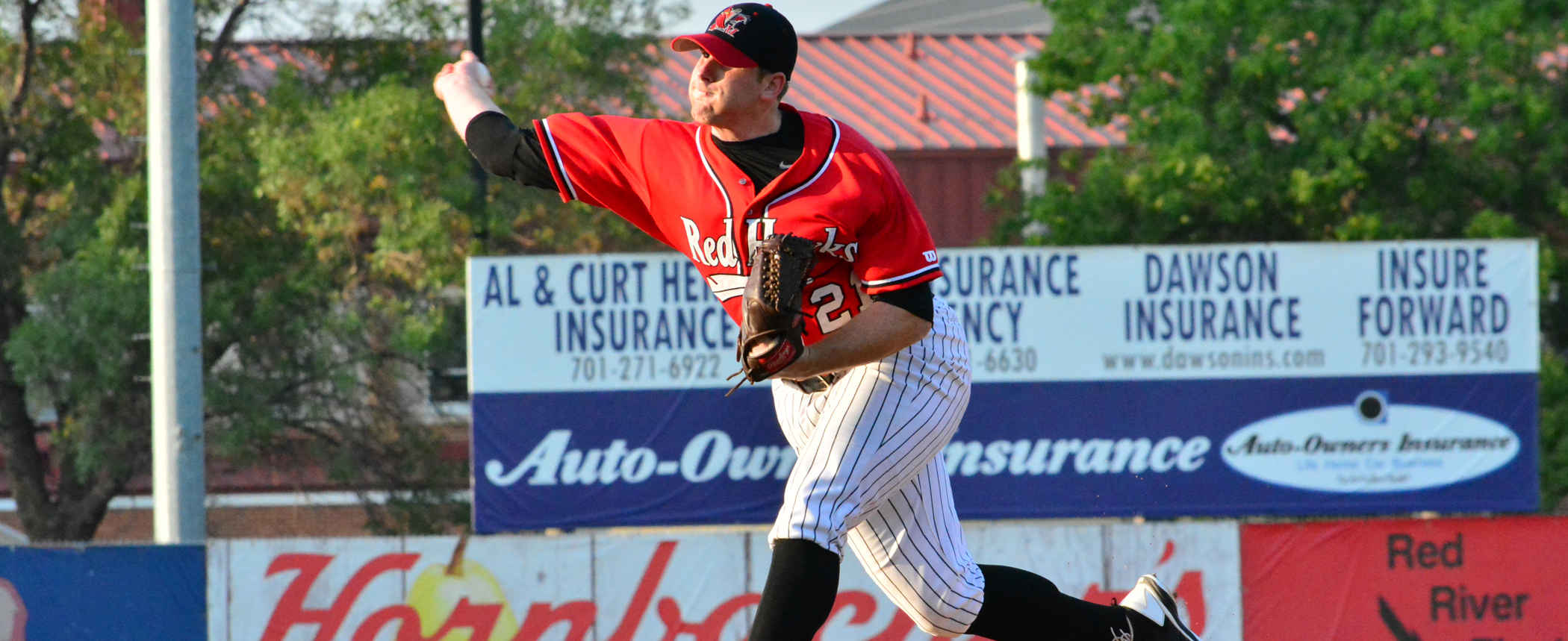 August 7th Win vs Gary RailCats
Being a competitor, Taylor nonetheless took the ball every 5th day for the RedHawks in 2014 and gave the team the chance to win most nights. His pitch selection was limited without being able to throw his curve, and his results were off his expectations.
Taylor Stanton ended the 2014 season at or near the top of most statistical categories among team starters including batters faced (523), innings pitched (117.2), and strikeouts (77) against walks (33). With the team also having an off year at the plate and near the bottom of the league in batting, wins were a little harder to earn too and Taylor finished the year starting 20 games and ending with a less than hoped for 6-11 record and a 4.89 ERA.
2015 Season
Taylor Stanton had several offers to play ball both in the US and overseas in 2015 but in the end loyalty factored heavily into his decision. So despite a new pitching coach and with the team turning over all of its players except the starting shortstop, Taylor resigned with Fargo.
Half way through the 2015 season Taylor had returned to the form that earned him Pitcher of the Year in 2013, consistently delivering quality starts and was able to use all 4 of his pitches again.
Memorial Day 2015
The Fargo-Morehead RedHawks however struggled in 2015 as a team. With nearly complete personnel turnover the team tried out 50 different players during the season and as a consequence lingered at the bottom of the standings.
Through the first half of the year, the Redhawks led the league in errors, couldn't string hits together, had a revolving door at the infield positions, and struggled with relievers closing out games for an otherwise strong starting rotation. After an opening day loss, Taylor went on to pitch nine straight games (6 quality starts) and came away with 2 wins and a disappointing 7 no decisions in that nine game stretch.
Though there was no way for the team to get to the post season, the Hawks started to win games in the second half of the year and Taylor finished the year with very respectable results, lowering his ERA from 4.89 in 2014 to 4.21 by the end of 2015. He finished with a 6-4 record versus 6-11 the prior year, and increased his strikeouts to 97; just slightly below the 108 he had during his award winning 2013 season.
Brisbane Bandits
Trying to add to his resume and reputation, Taylor decided to try winter ball again and accepted an offer from the
Brisbane Bandits
of the
Australian Baseball League
. The Bandits ended up winning the title and Taylor had an outstanding season with the team in a setup role for the eventual ABL Champions.
2016 Season
Taylor returned to the US for the 2016 season and once again will play for the
Fargo-Morehead RedHawks in a starting role.
After a difficult 2015 where the team turned over all but one position player and started of poorly, there are well founded expectations for an improved team performance in 2016 based on a solid winning streak during the final 20 games of the year. And after a spectacular winter ball campaign, Taylor hopes to be a significant contributor to the FM Redhawks success.